This post was last updated on March 30th, 2021 at 03:50 pm.
Icon Systems, Inc. is pleased to announce IconCMO Lite, a native iOS (iPad, iPhone, and iPod Touch) app from Italic Software, Inc. IconCMO Lite provides pastors, staff, and even church members with the ability to view IconCMO's demographic data on the go. Having this data available at a touch will help you with a variety of tasks like maintaining contact with members, looking up contact information for others, driving directions to member's houses, text messaging members, etc. Calling the office for member information will be a thing of the past when you are on the road with the new native app for IconCMO!
Do any of these concerns come up in the everyday church hustle?
Are you on the road and need a map to their address?
Do you want to have the ability to send contact information to your personal contact list?
You need to call or email them and don't know their phone number or email address?
You want to know what their family background is (i.e. married, single, children)?
Are you a pastor that is meeting someone new but don't know what they look like?
Would you like to know what special interest, small, community or core groups they are in before chatting with them?
Communication for the Church Community — Communicate quickly and effectively while you are on-the-go! You can send email, send text messages, or place calls using a simple single-tap interface. IconCMO Lite interfaces directly with the most up-to-date information in IconCMO and eases communication for pastors, staff, and members! Additionally you can add the contacts directly to Apple's Contact Application including the picture.
Church Directory — You never have to worry about remembering all the information for a particular household. Using IconCMO Lite, you can drill down from the household directory (Fig. 1) into the details of any household (Fig. 2) for more information wherever you are. The data is always current, coming from the main IconCMO database to your mobile device.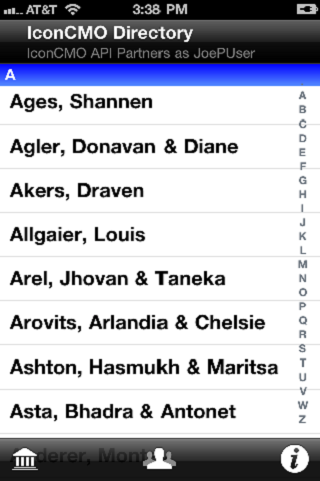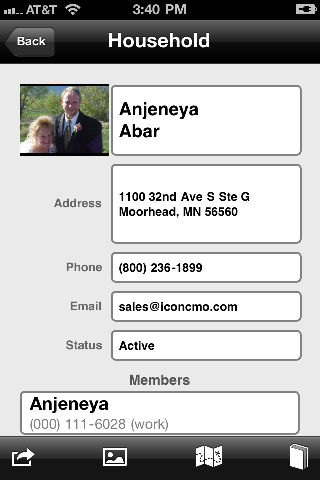 Small or Community Groups — IconCMO Lite easily shows you the community groups each household is a part of. You can find community groups that you are interested in, find what small groups a household is already a part of, and more. Often, during a pastor's routine conversations, it is obvious that involvement in one of the church's existing community groups is helpful. You can suggest community groups by knowing their current group membership and see what else is available internally or externally in the church community.
Driving Direction and Maps — A simple tap shows you household on a map; a second tap brings you to the Maps application, where you can quickly find driving directions—automatically from your current location if your device is GPS-enabled! (iPhones and some iPads have GPS, WiFi-only devices may be able to determine your location approximately based on nearby wireless networks.) No longer do you need to call the church office for directions in the middle of a busy day of visitations! Let IconCMO Lite mobile app light the way for you and help you stay on schedule. The address is always current by using the IconCMO database.
Easy-To-Use Mobile App Interface — IconCMO Lite is designed to get you the information you need as quickly and as intuitively as possible. The navigation icons below are used throughout IconCMO Lite application:
One copy of IconCMO Lite supports all of your Apple iOS devices from one application and adapts its features to reflect the differences between your devices.