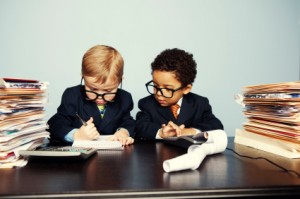 Just like any for-profit business – you want accurate, up-to-date reports so you can monitor the financial health of the organization and make informed decisions.
But in a non-profit organization you have all these funds to keep track of!
So you use spreadsheets, multiple checking accounts, create fictitious liability accounts, and use various other creative accounting methods to try to keep everything organized.
We are here to tell you that there is a better, simpler way.
Fund Accounting was designed to give you an easier, more accurate way to manage your church's finances.
Of course, we realize that learning Fund Accounting isn't easy. Just like learning anything new, it takes time, effort, and a bit of elbow grease. But you don't have to be a genius to get this stuff.
If you're still reading this you're probably at least a little bit curious about Fund Accounting.
So now what?
You can find a whole lot of information online that tells you how to do not-for-profit accounting. But they're long, boring, full of jargon, and how do you know which ones to even read?
Introducing: The Church Finance Newsletter
We don't just tell you how to do something. We explain why fund accounting works and provide example scenarios to help you understand.
Each church is unique and has its own set of needs. Once you understand why Fund Accounting works, you will be able to organize your church's accounting books in a way that works for your church's individual situation.
What you can expect:
A welcome email referencing some of our most popular articles about church finance
Fund Accounting scenarios that explain how your church can comply with Financial Accounting Standards Board (FASB) guidelines
Important news and updates about what is going on in the world of non-profit finance
Tips and suggestions for increasing contributions, maintaining your tax-exemption status, preventing fraud, and more!
The Church Finance Newsletter is a FREE email newsletter from Icon Systems, Inc.

Sign up today so you don't miss anything!
Enter your email address below to sign up:
[constantcontact id="6″]
We respect your privacy and would never share your information or send you spam. You also have the ability to unsubscribe or change your preferences at any time – no hard feelings!