This post was last updated on March 31st, 2021 at 10:54 am.

This is the first of our four-part series on successful church fundraising. (See Part 2, Part 3, Part 4)
I don't recall the speaker's name or her cause, but I remember the pitch. As I sat in the BJ Haan Auditorium at Dordt College, she made her call to action, to meet her in the atrium, make checks out to such-n-such. And then she made an implied argument that went something like this:

You may be thinking, Can I trust this charity? How exactly will the money be used? But how carefully do you think it through when you buy something for yourself? How much do you think about spending $15 on a CD? And isn't giving $15 to our cause more important?
I'm curious to see your thoughts on this approach in the comments. I can't say how well it worked on others sitting in the chapel.

For me, it worked like a train wreck. I get the point, but my inner voice went on offense:
Yes, I think carefully before I buy things for myself, even for $15. So instead of the guilt trip, and acting like me giving you $15 is a mere nothing for me because I'm about to blow it on something trivial, why don't you earn my $15 by convincing me your organization is trustworthy and giving me some data and showing me how that $15 is going to be spent.
(And that's me as a 20-year-old college student. How cantankerous will I be 30 years from now?)
Everyone's different and reacts differently to calls to action, and that's just the beginning. They also handle money differently. They have different interests, different priorities, different visions. I and anyone else who's taken part in church meetings and planning has learned these things in a hurry.

There's a lot for you as a church to weigh and consider as you try to secure the donations you need to survive and thrive, and it's getting harder for many congregations. How can you put together a donation formula that works?

Maybe the best place to start is to look at reasons why people stop giving to churches and other charities. Adrian Sargeant, professor of nonprofit management at Henley Management College, Greenlands, lays out some reasons in a study published in Wiley Periodicals. Some highlights from his breakdown:
54% quit because they can no longer afford it.

36% find other causes to be more worth it.

13% never received any acknowledgment for their support. (Ouch!)

11% cited variations of poor staff support and communication.

8% weren't informed how the money was being used.

6% thought the charity didn't need them.

3% felt the charity didn't honor their wishes.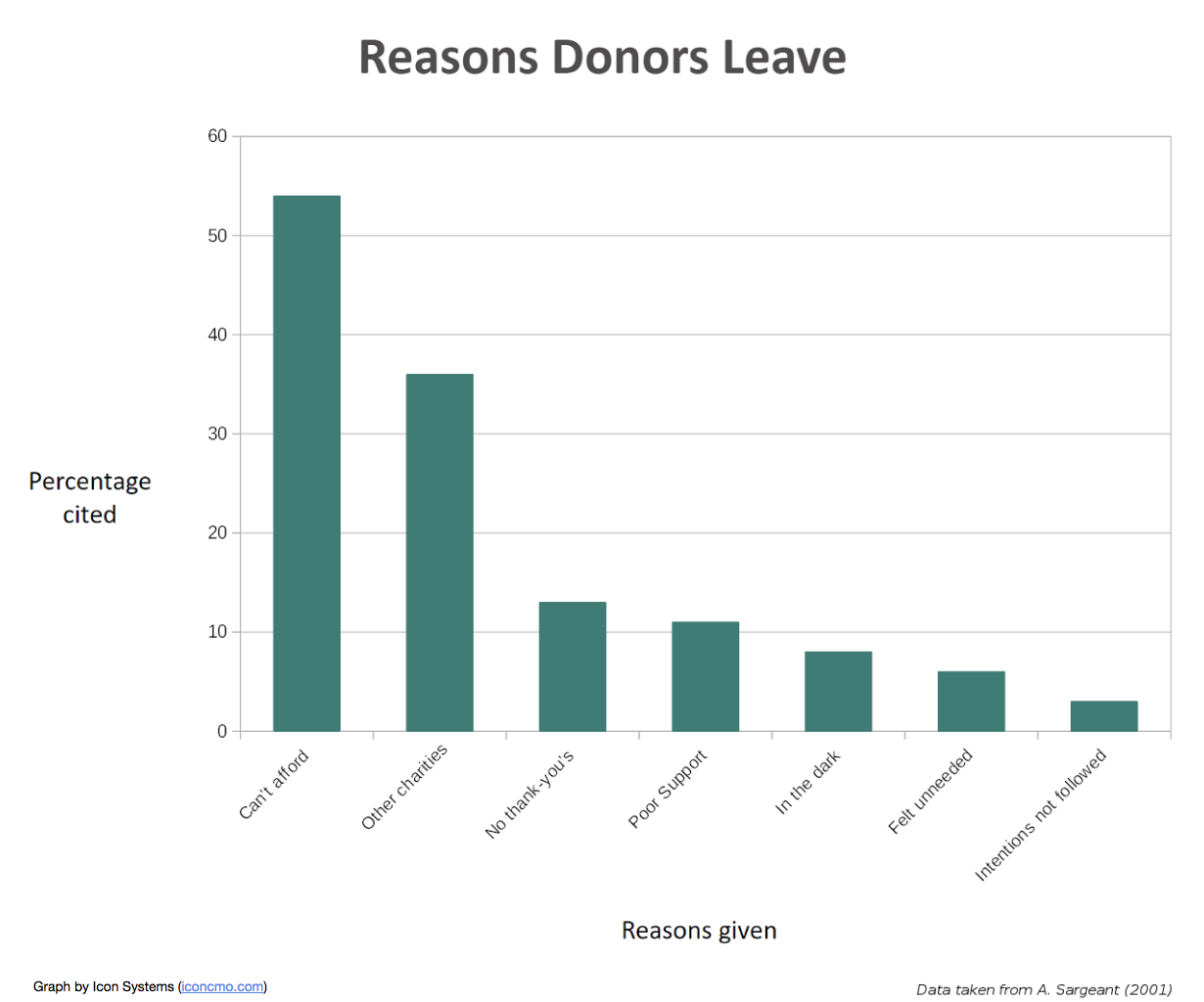 These characteristics are a nice distillation of research and collective wisdom from throughout the church sphere and the broader nonprofit world. Three themes emerge, and everything I find on the subject keeps coming back to them:
Motivation

Giving Experience

Trust
For our next three posts in this four-part series, I'll take a high-resolution look at each theme.