Check Out These Awesome Church Software Resources
Church Finance 101
Get the eBook series that explains everything a church needs to know about recording donations, gifts in kind (non-cash donations), online donations, fund raising, and IRA donations. There's also an eBook that goes over 9 tips to increase a church's fundraising efforts. And finally, an eBook series wouldn't be complete without including church accounting and what church leadership should know.
Check out the full eBook series.
What are some of the unique questions that the eBooks can answer? Check out some of the questions below that we are asked a lot.
Quiz Time
Want to check your knowledge on fund accounting or recording donations? We've created a one of a kind quiz based on IRS requirements and other guidelines for anyone to use to test themselves or for churches to use as they need.
Church Member Portal Resources
Do you want to give your church members the ability to print their donation statement for taxes? Or do you want them to update their member profiles which saves the church's secretary's time?
The IconCMO's member portal takes care of this for the church. Once it's setup, then the church's website can have information for the church members to login. We have put together a sample for you to use in the link below and included the links needed for church members to download the church mobile apps.
Find out more about the member portal.
Easy Login Set up
Let us show you how to set up a page on your church's website to simplify logging in for your church members. Check out how to set up an easy login button for your church members to login into their family's profile right from the church's website.
Church Accounting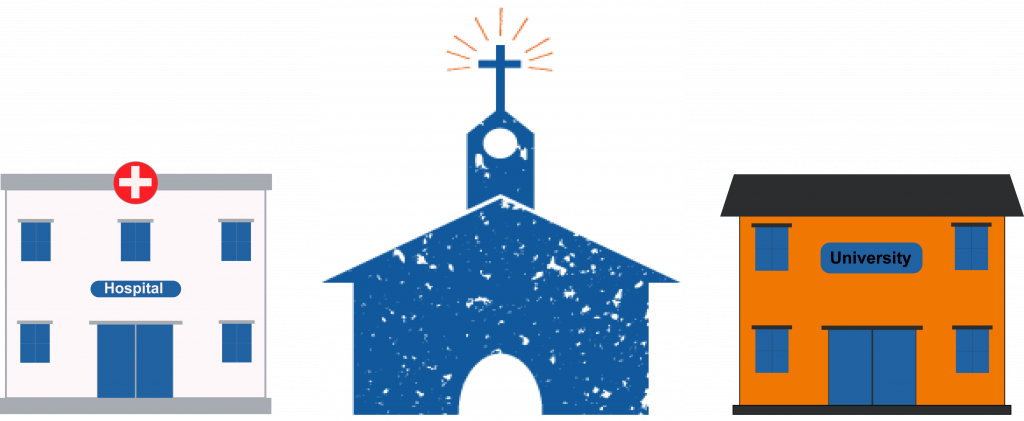 Fund Accounting For Churches
Learn all about fund accounting. Fund accounting is more difficult to learn than for profit accounting. However, it gives nonprofit organizations the flexibility to grow their mission work, know what resources are allocated to those missions, budget appropriately and react to changes quickly — instead of at the end of the year.
After reading through fund accounting for churches web page, you'll better understand
the what and why churches must use fund accounting.
the types of funds in an organization's accounting system.
debits and credits in accounting.
the chart of accounts for an organization.
double entry accounting and why it must be used.
the required financial reports.
what to ask yourself before purchasing accounting software.
Last but not least is we have written an eBook for church leadership. Before picking the church's next accounting system take some time and see what should be considered.
Search and Find on the Blog
Icon Systems has helped thousands of churches understand the nuances of membership, donations, accounting , and payroll from the very beginning. We felt it was our duty to ensure churches weren't caught in a hard spot when the IRS or other auditors came knocking. We have collected our expertise into one place — our blog.
If you want to stay up to date on new post then subscribe to receive email updates.
Not finding what you need? If you don't find a satisfactory answer please send an email to our sales team recommending a blog subject and we will get you an answer!
Getting Help Using IconCMO
The IconCMO application includes resources in the application that helps users with all their questions. Our crown jewel for IconCMO is our live friendly technical support staff. While we love getting questions via email, we love users who call in. Unlike many software companies that don't offer live phone support, we can't get enough of it.
The best way to try out our technical support is to call us at 218-236-1899 when any questions come up using the software, or the trial version!
As a user of IconCMO you have other options in the IconCMO application to get help when needed. Users can access the IconCMO support forum to search for answers to questions or send a new question to our support staff. Each screen on IconCMO has a help area that allows the user to read through the screen instructions in case they need a little more help. And of course there are how-to videos included in the system for users that like to watch how certain task are completed.
Last but not least we offer free webinars for training. We offer group webinars on specific topics from time to time. Or the church can request a one-on-one webinar if they like to go over specific areas of the church management system.
Not a current customer?
Sign up for a webinar overview below.
Contact Us for a 1-on-1 Guided Tour!
Thanks for scheduling a time with us!
Looking forward to talking with you,
Carrie at Icon Systems, Inc.
Developer's Center
IconCMO comes with a robust set of APIs so developers can link into IconCMO and display data from the IconCMO database in their applications. Developers could use this ability to download data to make reports and update data from their applications into IconCMO. APIs are a powerful option that IconCMO has and other church management software doesn't.