This post was last updated on October 7th, 2022 at 12:59 pm.
It's Spring! And a person's thoughts turn to…. quarterly donation statements? OK, maybe that's not how you would finish the sentence, but it is a timely topic for several reasons, and reaching the end of a financial quarter is just one of them.
Why send out quarterly statements? While you are not required by the IRS to provide quarterly donation statements, doing so affords you an opportunity to connect with your donors more often. In reality, most of them aren't likely to spend a lot of time thinking about what they have pledged or given. More frequent contact gives you the opportunity to not only be a little more top-of-mind with your donors when it comes to their financial planning; you can also give them a visual reminder that helps them stay on-track with their giving over the entire year.
Additionally, you can use the letter feature in IconCMO to include a summary of what has been accomplished and/or share your ministry vision for the days ahead. You could even personalize your ministry's impact by sharing a brief story (maybe even with pictures?) that lends testimony to the positive impact your members' donations are having on the lives of others.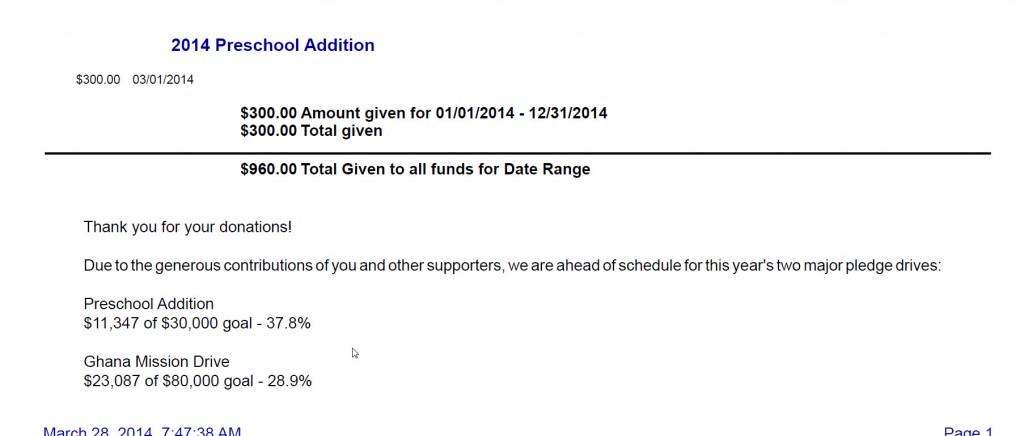 Include a self-addressed return envelope for them to send in their next gift. If you have made online giving available to your members, this is an excellent time to remind them of that and other avenues by which they are able to make donations.
The donation statement generator in IconCMO not only makes it easy for you to generate statements for your donors, it can even help save postage dollars when you use one of the email options for those who elect to receive statements electronically. When you use this feature, you will want to go to donor numbers, then select all donors who wish to receive their statements via email illustrated below.
Quarterly statements are typically sent out the beginning of the month following the end of the quarter. As an example, after your March 31st donations have been posted, you should make the statements available the beginning of April. Also set calendar reminders for July and October.
Send those quarterly statements and take advantage of the opportunities they afford.
And while you're at it, you may want to step outside and take advantage of some of the opportunities the great outdoors afford as well.