This post was last updated on October 10th, 2022 at 02:59 pm.
How to Record Allergies and Emergency Contact Information in IconCMO
It's that time of year when kids are getting ready to go back to school which means Sunday school will also be starting. As you are preparing lessons and organizing classrooms, you might want to consider entering groups and adding important information such as emergency contacts and allergies to share with Sunday school teachers or field trip chaperones. Important information can be tracked in our Special Events section.
Groups Setup
Go to People: Groups: Grp-Members
Click Group Category and enter Sunday school – click add
Select the category you created and click Group
Enter the name of the group – click add
Select the group, such as Grade 1
Add children to the group.

You can do this by selecting your criteria, active, age range, name range and then click Find
The members will populate in the box on the right
If you want this member to be in this group, change the "no" to a "yes"
When you are done, click Show Group Only to make sure you are not missing any names
Special Events Setup
Go to Organization: Preferences: Church Membership
Click on Maintain Special Event Types
Type a name for your event (Emergency Information, Allergies, Special Needs)
Add headings for any fields you want listed under the event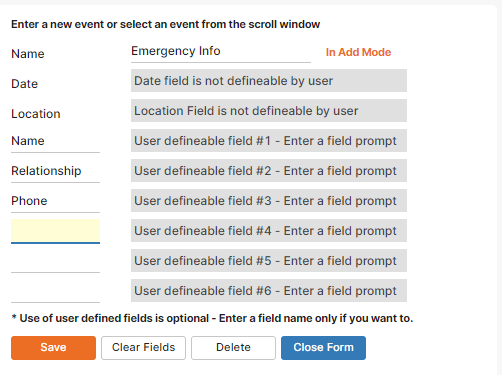 Recording Special Events
Go to People: Individuals and then choose someone in the list
Ensure the Special Events button is selected (it should have blue lettering)
Choose the Special Event you created (Emergency Information – see red arrow)
Record the emergency contact information and click the orange save button
It may be helpful to enter the current date in the date field so you know the last time information was updated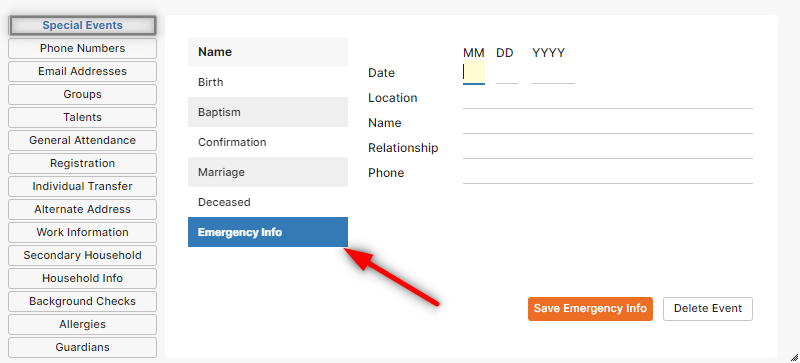 Report for Classroom Teachers & Chaperones
Go to People: Groups and click the "Reports" button
Then click the "Exports" tab
Select "Individual Group List" and the option to "Include Special Dates"
Click "Export Data"
You now have an excel file that can be customized with the information you want to share