This post was last updated on October 7th, 2022 at 03:23 pm.
Does your church invite members to purchase an Easter lily in memory of or in honor or in celebration of a family member, friend, or occasion?
You may be tempted to include the payments in with the regular offerings, but there's just one little problem with that. You put an IRS disclosure on your donation statements saying something along the lines of "No goods or services were provided by the church in return for the donation."
Which poses another question: Can someone deduct charitable donation, even if they receive something in return?
If you make a donation to an organization and receive something in return, you may still be able to get a deduction on your taxes. However, your deduction is limited to the excess of what you gave over the value of what you received. For example, if you gave $100 to a charity dinner and the dinner was worth $30, you can deduct $70. If you make a donation of more than $75 and receive goods or services, the charity must give you a written statement that tells you the value of those goods or services.

For more information regarding charitable donation and potential tax benefits, visit the IRS Web site and search Publication 526.

Source: Legal Zoom
So if you aren't supposed to include Easter lily money in with the regular donations, then how do they get recorded in IconCMO?
The first step is to go to the Donation: Funds & Donations window. Set up a new fund named 'Easter Lilies' and label it as a taxable fund.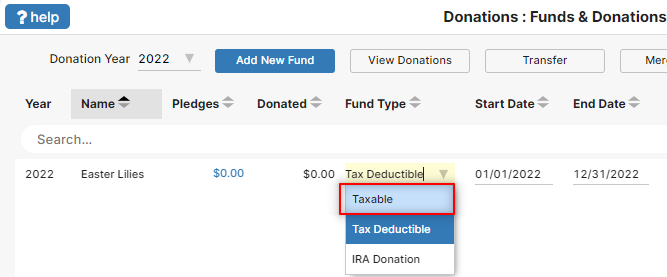 Next, use the Easter Lilies fund when recording the transactions in a batch.

You can put a comment stating the value of the plant if they donated above and beyond the value. Then they can use the difference as a tax deduction.

Any transactions recorded to the Easter Lilies fund will not show on the regular donation statements; however, you can print a separate statement for your taxable fund(s) if you'd like. This option is in the Donations: Statements window.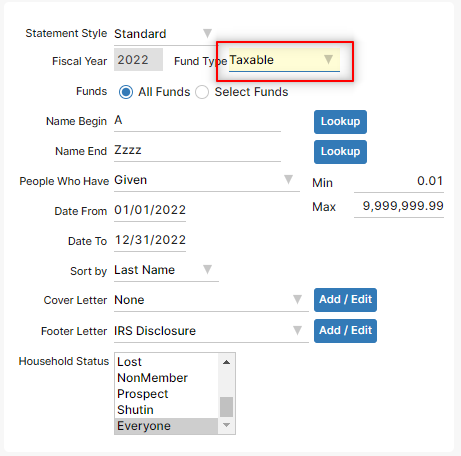 Preview Sample Easter Lily Statement
That's it!
And this isn't just limited to Easter lilies, it can be used for any type of church fundraiser (e.g. bake sales, auctions, car washes). For additional information on donation guidelines, visit our Church Guide on our website.
As always, the information presented on this Site should not be construed as legal, tax or accounting advice. You should consult with a professional adviser familiar with your particular situation for advice concerning specific tax or other matters before making any decisions.