This post was last updated on March 16th, 2021 at 01:16 pm.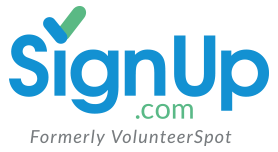 Icon System's partner VolunteerSpot recently announced they've changed their name to SignUp.com.
VolunteerSpot has a new name and a new look—and that's it. Since our founding, people have used our helpful solutions for every kind of activity that relies on successful group coordination, not just volunteering. Our new name lets us better serve the needs of our entire audience. We still offer the same great tools and solutions for coordinating people and generating successful participation. Your account and all your activities are still here – just log in as usual and get going." – Karen Bantuveris, Founder and CEO
Read the full announcement at http://signup.com/Our-New-Name.
About SignUp.com (formerly VolunteerSpot)
SignUp.com offers FREE and easy online volunteer coordination tool and online signup sheets. Save time and say goodbye to reply all email, spreadsheet juggling, illegible clipboard signup sheets and phone-tag. SignUp.com makes it easy for ANYONE in the congregation to schedule, sign up and remind volunteers. SignUp.com's premium service includes advanced features like hours tracking and custom registration fields.
P.S. Don't have a SignUp.com account yet? Use promo code ICON100 to receive three additional months free with your paid premium upgrade. Also to view our initial announcement with this great partner you can view it here.