This post was last updated on September 26th, 2022 at 04:55 pm.
We're here to help!
Icon Systems has a lot of church software resources available to help you navigate IconCMO and learn how to accomplish your daily tasks within the system. Here's a list of complementary resources included with your subscription to IconCMO and the top 7 ways.

Printable Getting Started Guides & Tutorial Videos
Help link shortcuts on every screen
24/7 access to the Support Forum
Tutorial videos and webinar replays on YouTube
This Blog!
Live training webinars with Q&A
Our knowledgeable support team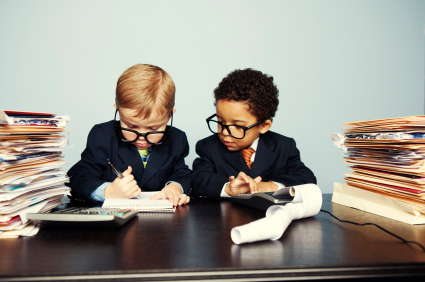 1. Help Guides & Videos for Church Software
When logged into your IconCMO account—in the upper right hand corner you will find a small section of resource menus. Each menu has a list of resources that will give you guides, videos, links and information that can assist you in your daily processes


 Videos

Membership & Groups videos
Donation videos
Accounting videos
Miscellaneous videos

Getting Started

Membership, Donations & Fund Accounting setup guides
Donation, Attendance & Accounting year-end guides
Payroll setup & processing guides
Vanco & Bambora online giving setup guides

Help

Link to the Support Forum
Support's contact information
What browser version and Operating System you're operating
2. Help links on every screen
When you are working in IconCMO and you run into a question on a certain process or a certain screen, you can always click on the "? help" button in the upper left hand corner of the screen. This button brings you directly to support forum post that gives you more information on the screen. Many times a short video tutorial is included with the documentation.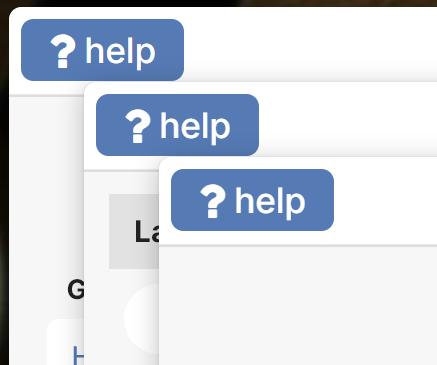 The "?help" button on our home screen a master list of our training links organized by module. It includes links to our e-books and social media pages, where we post tips weekly!
The home screen should open automatically each time you log into IconCMO, or you can access it by going to Organization: Setup: Home.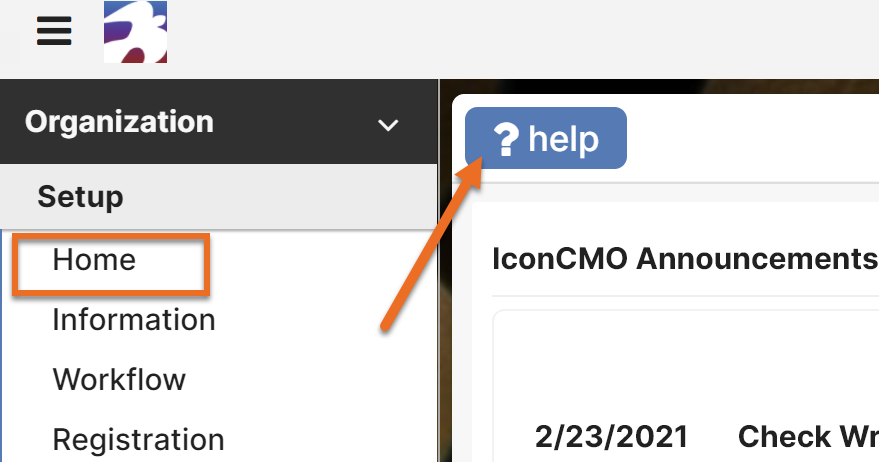 3. Support Forums are a great church software resource
The support forum is a handy tool that allows you to ask questions, make suggestions and browse through other users' questions about the system. You have the option of making each post public or private. If public, any user can answer or comment on your post or vote on your suggestion! An Icon Systems support tech will review all posts and comment quickly, usually within one business day. You can access the support forum in several ways.
The help buttons in each screen as posted above in #2
Under the 'help' menu in the upper right hand corner of IconCMO
Under the 'System' menu on the left side of IconCMO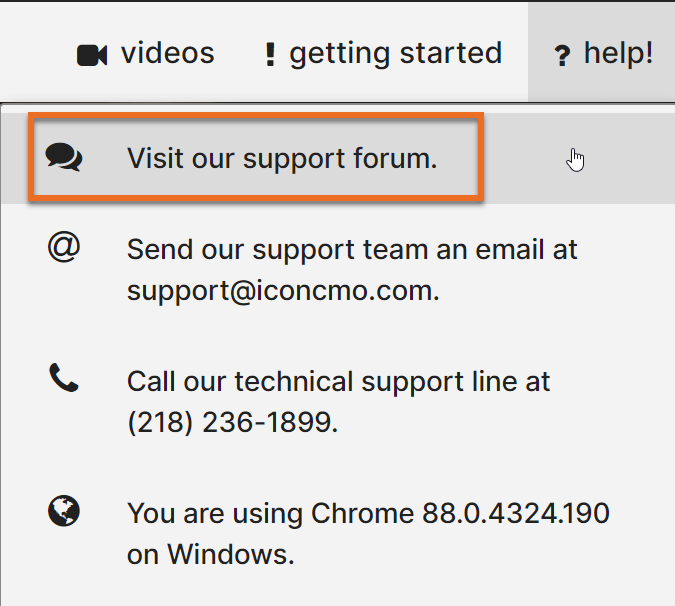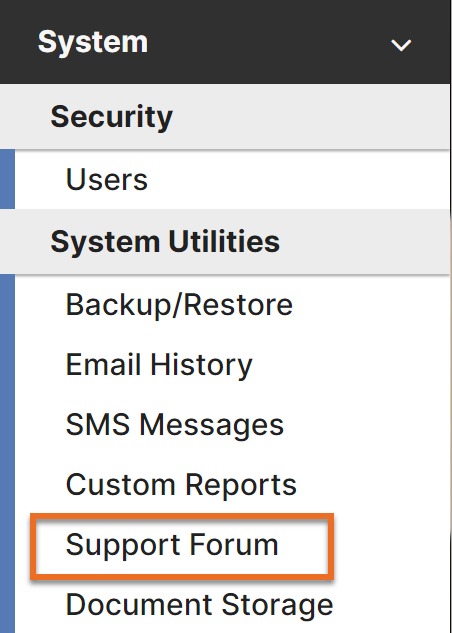 When you first access the support forum, you will be assigned an alias which you can change in the support forum screen once logged in. Your alias connects to your IconCMO username only. You must click "continue" on the screen displayed in the image below to access the support forum:
4. YouTube channel
Our YouTube channel is full of webinar replays and video tutorials. Be sure to subscribe so you get notified of new videos! You can access our YouTube channel by going to
https://www.youtube.com/user/IconCMO.
Or from any video posted inside of IconCMO.
5. This Blog is an excellent church software resource
There is a lot of very useful information found right here in this blog! Fundraising tips, fund accounting information, security tips, how-tos within IconCMO, and more! Just use the search box on the right, and enter a few keywords to lead you to a related blog post.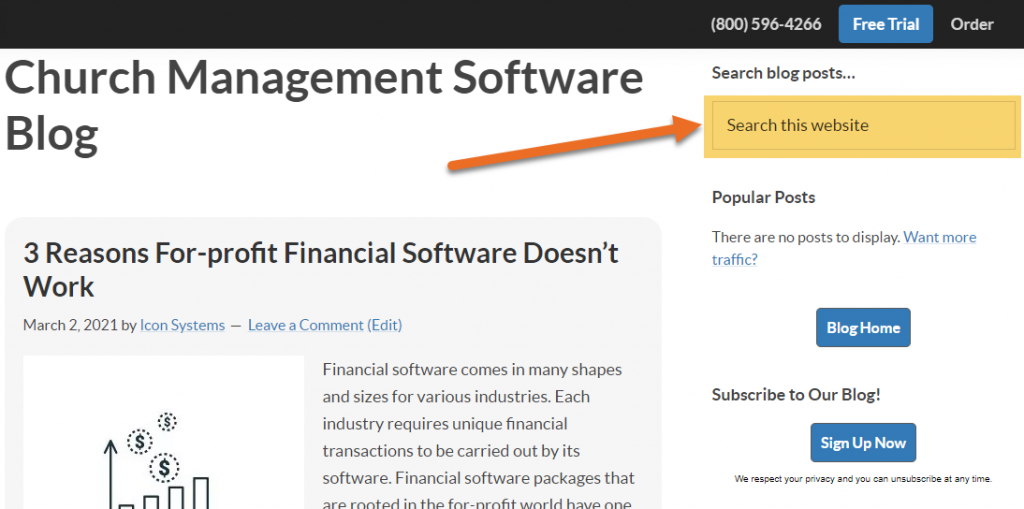 6. Live Training Webinars
IconCMO is committed in helping you utilize our system to its full potential. We periodically host webinars on different modules within the system. Even if you can't attend live, go ahead and register anyway! You'll receive an email with a link to the recording so that you can watch the replay at a later time.
These webinars are not just for beginners! Many seasoned users have attended and commented that they learned tips and tricks to improve their current processes that they may not have otherwise known.
To be notified of the upcoming webinars that we will be hosting, be sure to subscribe to our mailing list here:
7. Our church software support team
Most importantly you can always call our knowledgeable support team! There is no automated menus to reach us therefore, saving you time, frustration, and money. Our support is 100% in house, and not outsourced. We can be reached via phone call, email or you can call to schedule a one-on-one webinar training.
Hours: 8:00am – 5:00pm CST M-Th & 8am-4pm F
Email: support@iconcmo.com
Call: 218-236-1899