This post was last updated on October 5th, 2022 at 08:48 am.
Recent natural disasters have reminded us all how unpredictable and fragile life is, and how quickly our personal property can be destroyed. In this post, we will discuss how churches protect their data.
With all the terrible personal loss people fear when it comes to hurricanes and other natural disasters, electronic records can be an afterthought. But a church staff needs to remember their church's data, not just their insurance policies and emergency plans.
I recently spoke with a church staff that had been hit by Hurricane Irma. Power had been off at the church for a long time. When the power came back on, the office computer they use to keep records on was missing data from the hard disk. The Revelations membership and donation records were gone.
What Questions to Ask When Protecting Your Data
When they were having trouble locating their flash drive for data backups, I started to get nervous. I was mentally preparing to run them through unpleasant options. Did they have good hard copies? Of what? How much time were they willing to spend re-inputting data from months or even years worth of hard copies? How much were they willing to pay for some data recovery service that may not work anyway?
Fortunately, they found the flash drive and I was able to get them back up and running in minutes. But there could have been a much worse ending. What if they couldn't find the flash drive? Were they backing up regularly? What if it had been destroyed by the storm damage, or the data had been corrupted somehow?
Things like that happen. We've had clients (who didn't use our web-based IconCMO church management software) lose all their data, all because they weren't prepared for the worst.
How can churches protect their data and keep it secure?
That is, are you not storing your data through some sort of cloud service / web-based system?
Make sure you back up your data frequently. That way, if something goes wrong and you have to pull out the backups, you won't lose much. I recommend daily backups. It doesn't take a lot of time or data storage

, and it can save a lot of time redoing lost work. But if you only use the system once a week, a weekly backup will do.

Keep multiple backups on multiple drives. There should be more than one flash drive / computer where you're storing backups. You don't want to depend on a single backup drive. Anything could happen to it.
Keep offsite backups. This comes under Don't put all your eggs in one basket. If you lose your office computer to a storm, flood, fire, thief, etc., and your backup drive is in the same location, you could very well lose your backup drive at the same time. You need to have backups in a different setting from your work computer — preferably far away.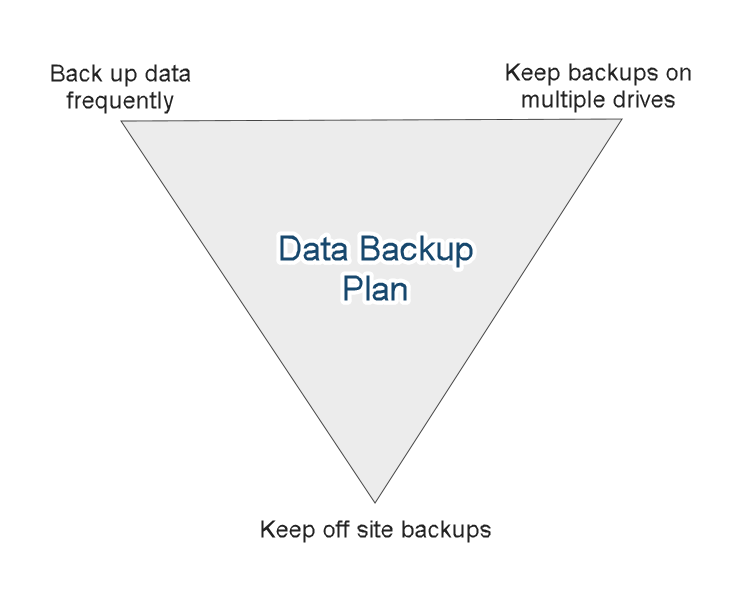 And then there's the whole matter of keeping your data secure from people who should not be accessing it (hackers, uninformed staffers, and so on). But that's a whole other topic.
Are you using a good, secure web-based system to protect your data in the cloud?
Relax. You've

got this covered.
How do you know if a web-based system is secure?
A software company that's confident about their cloud-based system should be transparent with you about why their system is secure and trustworthy.
A trustworthy cloud-based system…
backs up your data frequently. How frequently? Well, think about how much you get done in a day and how much you're willing to lose.
backs up your data in more than one geographic location with hundreds of miles in between. If you can hike from one backup site to the other, so can a tornado. Not good enough, software company!
brings you your data over an encrypted, secure connection. Sending important, sensitive information through an insecure connection is kind of like mailing it without envelopes. No, it's actually worse.
keeps your data on secure servers with strong barriers between your information and the outside world. Church data can be very sensitive and there are plenty of hackers out there. When a car thief comes along, you want the doors locked, the alarm system on and the wheel lock in place.
is available when you need it. What's the system's up-time? Are there frequent service interruptions? Your data is no good to you if you can't get to it.
Learn more about what to consider when evaluating the security of a web-based system.
Find out more about our secure web-based church management software.
And when it comes to your electronic data, hope for the best, but plan for the worst. With the many options available there is no reason churches can't protect their data from loss.