This post was last updated on April 6th, 2021 at 10:14 am.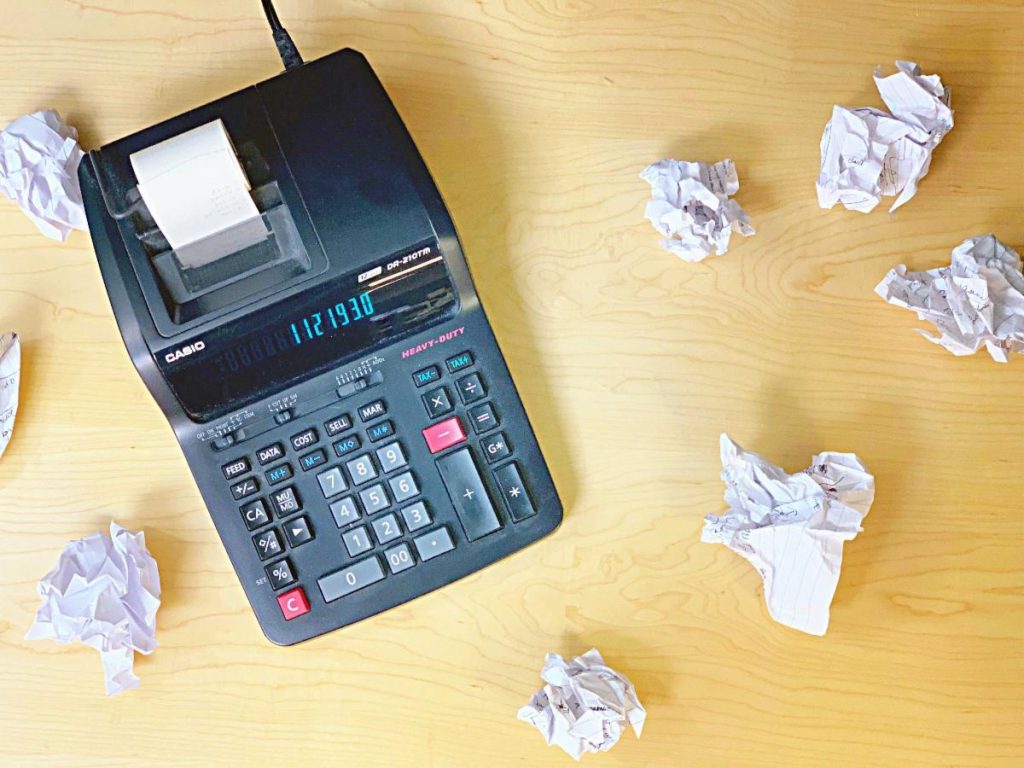 It's easy to make accounting mistakes. The IconCMO fund accounting system is very flexible and has many options for correcting these mistakes.
In this post, we'll run through different types of common accounting mistakes and the best possible ways to correct them.
If you're looking for more general information on fixing errors in double entry accounting, we recommend Patriot Software's blog post on correcting entries for mistakes in accounting books. IconCMO's tools for fixing accounting errors automatically make the adjustments / reversals described in that blog post.
We've written previously about errors clients can make in how they set up their accounting system, especially about problems setting up checking accounts. Feel free to refer to our post on checking account mistakes. This post will focus on mistakes in actually entering transactions.
Here's a rundown of how to fix such mistakes.
Common Accounting Mistakes
There are different places you can fix mistakes, but I'll focus on how to make corrections in the GL – Register. This window has the most options for fixing mistakes.
Accounting mistake 1: wrong amount
If you entered a wrong amount for a transaction, deleting it is the only option. That way, any time an actual amount of a transaction is changed, there's a reversing entry in the system and an audit trail of what was changed. That audit trail protects the church from cases – or suspicions – of embezzlement and fraud. You can look up the transaction in the GL – Register, click on it, and click the 'Void' or 'Delete' button.
You'll get a prompt asking what transaction date you want to use for the reversing entry, you almost always want to choose the same date as the original transaction date.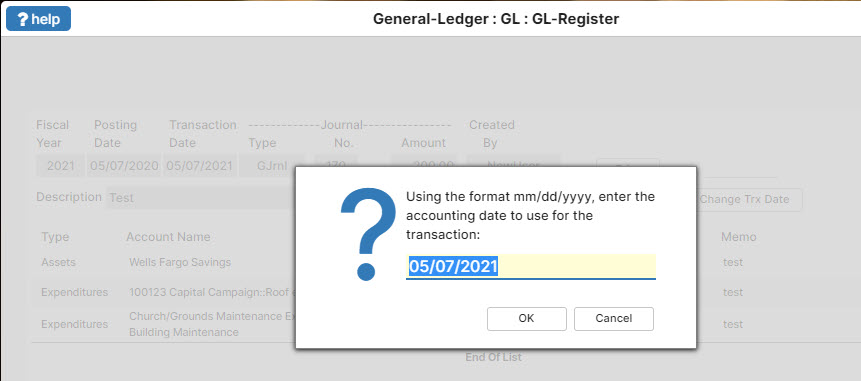 That way, the original amounts of the transaction are offset on the same day. You may want to use a later accounting date for your reversal if you've already had reports approved when the original transaction happened. Then, the offsetting debits and credits will show up in later reports and the original reports will remain unchanged.
After deleting the transaction, you'll have to re-enter the transaction with the correct amount.
Accounting mistake 2: wrong account
If the wrong checking (asset) account is used, you need to 'Void' or 'Delete' the transaction. (See #1)
If the "Account Types" are different – say, you put in a revenue account and it's supposed to be an expense account- you need to 'Void' or 'Delete' the transaction. (See #1)
If you are going from a revenue to a revenue or expense to an expense, you can probably fix it. First, look up the transaction in the GL – Register, click on it, and click the 'Change Account Assignment' button. Next, Choose the wrong expense account entered. Then, choose the account that should be in the transaction.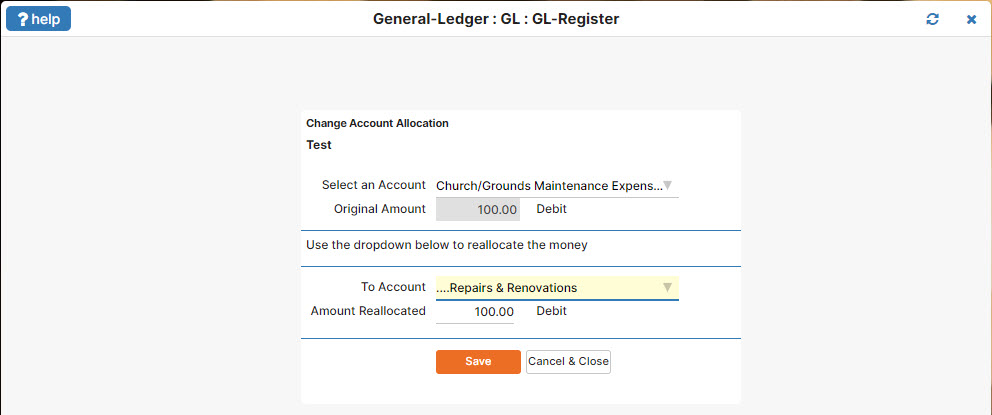 Accounting mistake 3: wrong fund
If you selected the wrong fund for all or part of a transaction, you should be able to fix that. You can look up the transaction in the GL – Register, click on it, and click the 'Change Fund Assignment' button. Choose the wrong fund on the left, the correct fund on the right, and click 'Submit'.
Please Note: Changing a fund assignment in a transaction will affect all line items of the same fund within that transaction. If you have 2 line items with the same fund but only one needs to change, you will have to void the transaction.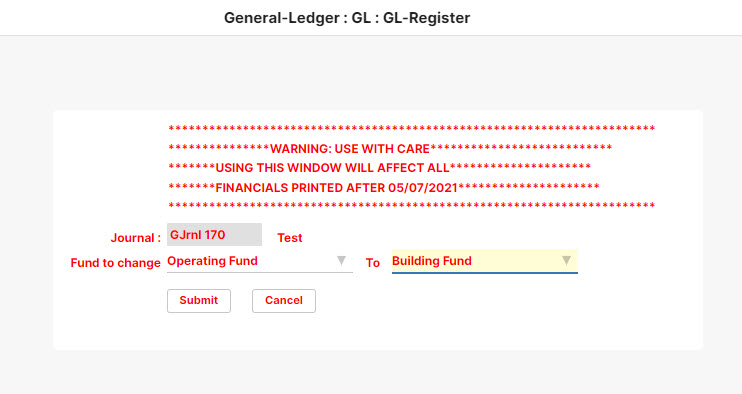 Accounting mistake 4: wrong memo or description
You'll notice that the GL – Register has buttons for those, too: 'Change Memo', 'Change Description'.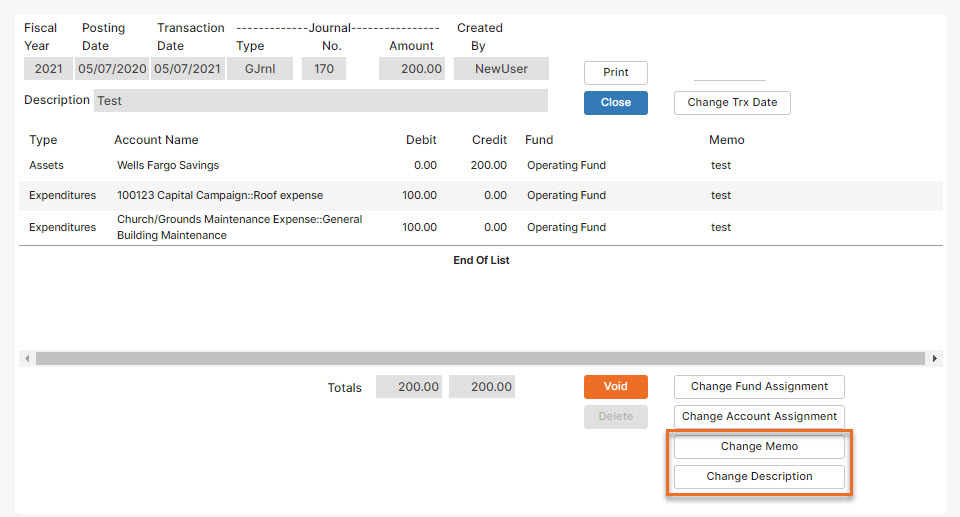 Accounting mistake 5: wrong transaction date
If your transactions are showing in your register on the wrong dates, you can simply change the date by typing the correct date in the field shown and clicking 'Change Trx Date' to update your entry.

Not using IconCMO's accounting system?
See how double entry fund accounting works and why it's important by visiting our educational page on fund accounting. There, we have detailed information and instructional videos.
Learn more about our church fund accounting system.
Find out more about our church management software.