This post was last updated on March 31st, 2021 at 09:57 am.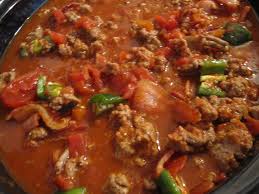 Josh's Bacon chili
1 pound thick sliced bacon
2-3 pound ground beef
2 packages of fresh sliced baby bella mushrooms
1 large sweet onion chopped
1 to 1 1/2 green pepper chopped
3 cloves garlic or garlic powder for taste (if using fresh garlic mince it)
3 cans petite diced tomatoes
1 can chili beans
2 packets of chili seasoning
splash of clamato
shredded cheddar
In large skillet cook ground beef, then set aside. In separate large skillet cook bacon until brown. Take bacon out, but leave the grease in the pan. Tear the bacon into pieces and set aside. In the pan with the bacon grease, add in mushrooms, onion, green pepper and garlic. Simmer until cooked. Mix ground beef, bacon, beans, diced tomatoes, veggies and seasoning in large crock pot. Cook on medium for about 3-4 hours. If it looks chunky, I add a splash of clamato to juice it up. Serve with shredded cheddar. MMMMMM….
Serves 10-12
Jays Pumpkin Rolls
This pumpkin cake roll recipe is filled with a cream cheese filling. Keep one of these pumpkin rolls frozen, in slices, and bring some out when guests drop in. This is the perfect fall or winter holiday cake!
Ingredients:
Cake:

3 large eggs
1 cup sugar
2/3 cup pumpkin
1 teaspoon lemon juice
3/4 cup all-purpose flour
1 teaspoon baking powder
2 teaspoons cinnamon
1 teaspoon ginger
1/2 teaspoon nutmeg
1/2 teaspoon salt

Filling:

8 ounces cream cheese, softened
4 tablespoons Butter, softened
1 cup confectioners' sugar
1/2 teaspoon vanilla extract
Preparation:
In large bowl, combine eggs and sugar, beating with an electric mixer until thick and light yellow in color. Add pumpkin and lemon juice, mixing until blended.
In separate bowl, combine flour, baking powder, spices and salt. Add to egg mixture, mixing well. Spread batter into greased and waxed-paper lined 10-by-15-inch jelly-roll pan.
Bake at 350 ° for 15 minutes. Remove from oven. Cool for 15 minutes. Place cake on clean tea towel sprinkled liberally with powdered sugar. Cool 10 minutes longer. From 10- inch side, roll cake up in towel. Set aside.
While cake is cooling in towel, prepare filling. Beat together cream cheese and butter. Stir in powdered sugar and vanilla and blend until smooth.
Unroll cake. Spread filling evenly over cake. Roll up cake (without the towel). Wrap in plastic wrap. Cover and chill at least one hour. Slice before serving. Keep leftover slices refrigerated. This pumpkin roll freezes well, and makes about 10 servings.
David's Crispie Rolls
For the bars:

¾ cup corn syrup
¾ cup sugar
¾ cup peanut butter
2 Tbs butter
4 ½ cups Rice Krispies™® ©

For the chocolate:

⅓ cup butter
2 Tbs milk
1 ½ cup icing sugar
⅔ cup cocoa
For the chocolate, melt the butter on low heat, and mix in the milk. Sift and add the icing sugar and cocoa, and mix well.
To finish, spread the chocolate mixture onto the flattened Rice Krispies. Then, roll the result up into a tight log, wrap it in wax paper, and refrigerate.
After one hour, you can remove them and cut the log into ¾-1 inch thick discs. Serve with a smile.
David's Relaxation for an Introvert (winter version) 😀
1 cup chamomile tea
3 to 4 square yards of a cozy quilt, warmed
50 or more pages of a favorite novel (classic detective stories from Dorothy Sayers, Ronald Knox, G.K. Chesterton, or Sir Arthur Conan Doyle are especially recommended, as are fantasy novels by Madeline L'Engleor, "The Space Trilogy" by C.S. Lewis, but, please, season to taste)
Bake for up to 2 hours, adjusting distance from the fireplace for comfort. When entirely relaxed, go to bed.