This post was last updated on March 31st, 2021 at 11:10 am.
In case you missed the announcement, we recently released our very own Child Check-in program! Our developers have been busy adding features and making improvements. Here's a list of the most recent updates.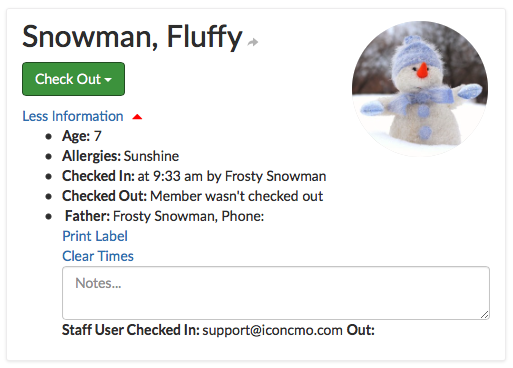 Check in/out buttons were combined. Now each person has one button that changes based on where that person is in the check in/out process. They can either be set to 'check in', 'checked out', or 'check in again'.
If guardians are assigned to a child, a drop down list under the check in/out button will display the guardian's name and picture. There is also an "unknown" option you can use if there's not a specific guardian assigned. This information is recorded for later use e.g. when we add reports down the road.
You can now clear the in/out times for a person and re-start the check-in process.
Each person's information was condensed and uses a More/Less Information link which can be clicked on to either show or hide additional information such as a phone number or email address.
The arrow indicator for this More/Less Information component will turn red if there is important allergy information listed.
In the More/Less Information section you will see the guardian that checked them in and out.
A list of staff members that were signed in at the time of check in/out is also displayed under the notes section for each person.
Phone numbers changed to format correctly within the US.
Resized the screen for optimal use on mobile devices.