This post was last updated on October 5th, 2022 at 08:45 am.
A few weeks ago, I got a call from a customer using Revelations, our Windows-based church management software (ChMS).
Thank you for calling Icon Systems, this is Michelle."

"Hello, this is Peggy from Peace Church*. My computer crashed, can you help me get Revelations on my new computer?"

"I'm sorry to hear! I'll show you where you can download the program from our website, then once it's installed we can restore your data onto the new computer. Do you have your backup file handy on a flash drive or disk?"

*crickets chirping*

"Ahh…no, we didn't make any backups."
This isn't the first call I've received of this nature, and unfortunately it won't be the last. The story is a little different each time; maybe someone broke into the church office and stole the computer or the church was devastated by a fire.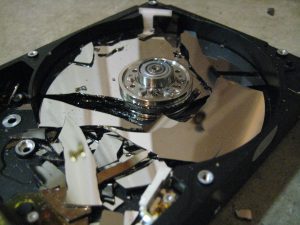 My heart goes out to churches in these situations because if they didn't back up the data, there is nothing I can do to help. The only option is rebuilding the database from scratch — including donation history. If a hard drive crashes, there are companies that specialize in data recovery but their services are costly and there's no guarantee they'll be able to retrieve the data.
No matter which ChMS you're using, ensure your data is protected from
Fires and theft
Malware and cyber attacks
Natural disasters (e.g. tornadoes, flooding, hurricanes, earthquakes)
Equipment failure (e.g. hard drive or server crashes)
Human error (sometimes mistakes happen)
Unforeseeable circumstances
Properly back up your ChMS database
Establish an effective back-up procedure and store back-ups securely off-site. It's important to regularly test restoring data from your back-ups. Make plans to help you keep working and recover quickly should the worst happen." – Geoff Duncan for Digital Trends
Read the rest of the article on Digital Trends exploring the pros and cons of different backup methods.
If you're using a cloud-based ChMS
Evaluate cloud services carefully. Using a reputable cloud computing service could be safer than running software in-house — providing you do your research. Check where your data is stored and how it is protected." – Start Up Donut
For a complete list of tips on preventing IT disasters, visit startupdonut.co.uk.
Technology is always changing and Icon Systems ensures necessary precautions are taken each year to protect our clients' most valuable asset – their data. We take data security for IconCMO, our web-based ChMS, very seriously so you can have peace of mind knowing your data is safe and secure. Below is an article outlining security precautions and backup procedures Icon Systems has implemented for IconCMO.
Skeptics vs. Cynics Web-based Church Security
Moral of the story
Having a proper backup plan means if something happens to your computer, you simply need to purchase a new one (which is hopefully covered by insurance) and log into your database online or reinstall your desktop program and restore the data. Yes, it's inconvenient but it's not nearly as much hassle as rebuilding your database from scratch.
*Names changed to protect customer privacy