This post was last updated on May 26th, 2022 at 11:14 am.
IconCMO is a simple to use alternative solution to Servant Keeper Office Online.
Is your church looking to make the switch from Servant Keeper Office Online or another version of Servant Keeper? If so we would love to chat with you about IconCMO and what it can do for your church. IconCMO is a simple to use solution with the power to grow for your future needs.
NOTE: The following offer our viewpoint on Servant Keeper's product offering versus IconCMO.
Churches Need A Web-Based Package – Not A Look Alike.
IconCMO is a true web-based package, unlike Servant Keeper. The distinction is important. While it looks like Servant Keeper is an online package, it has a limitation on how many users can use it as seen below.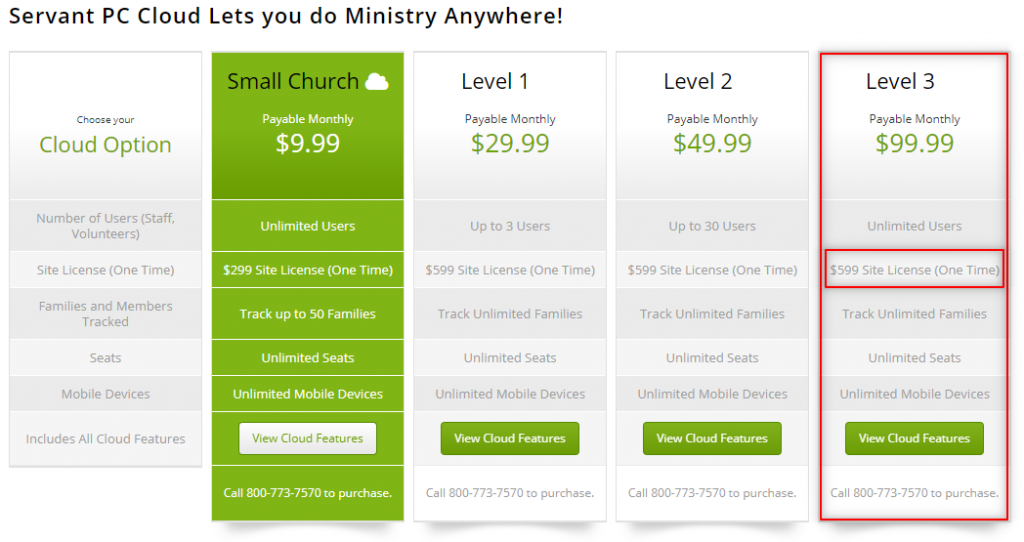 What this means is you can only have the program installed on 'X' number of computers. To get a comparable Servant Keeper system to IconCMO which has unlimited users, you would need to purchase their largest package, level 3, outlined in red.
The total cost for this software package is => $1,798.88. IconCMO's average package is $649.00/year, a savings of $1,149.00 over Servant Keeper! Worst yet Servant Keeper does not include a church accounting package. IconCMO comes with a fund-based accounting system specifically designed for churches.
The benefits of a true web-based package like IconCMO:
Accessible from any device that has a web browser and Internet.
The freshest updated software is always running
We take care of all server and system-related maintenance like backup, upgrades, and so on.
As many users can use the system without further cost to the church.
No need for hardware requirements on computers.
Support Is An Extra Cost With Servant Keeper Office Online
Servant Keeper does offer support at an additional cost ($$$), unlike IconCMO where it's included. Why does IconCMO include technical support? Because most of our clients don't have a full-time IT person on staff to help them with their church management software.
As noted above Servant Keeper charges by user licenses for their software. These user licenses come into play in how the church is charged for support. The more user licenses the church has, the more expensive the support package is. The support cost starts at around $300.00 for the first three user licenses. It goes up after three licenses. Adding the support cost to the steep software cost — the annual cost is now over $2,098.00.
Or choose IconCMO for a savings of $1,449.00. Keep in mind IconCMO includes accounting and Servant Keeper doesn't. Thus IconCMO saves you even more since there isn't a second package to buy like Quickbooks. We further discuss this in the accounting section.
Upgrade Cost Using Servant Keeper Office Online
It is very important to calculate the total cost of ownership when trying to compare two or more systems. Generally, you don't want to look at just one year's cost, but take into account a minimum of five years. Why? Because more than likely you will need to upgrade it at least once if not twice in that time frame. When looking at only one year for a cost, the upgrade cost is missed since it doesn't come up until year two or three.
With IconCMO the software is upgraded at no cost, ever. True online systems work this way in 99% of the cases. They are what techies call SaaS — or Software as a Service. However, with Servant Keeper, there is an upgrade cost to get new features, as seen below. Because Servant Keeper is not a true online system, the client-side (your PC) component needs costly upgrades.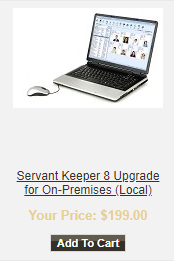 Upgrading cost money every year or so. The upgrade cost are added to the total cost of ownership for the year you upgraded. It is a cost that is often forgotten but can make or break a decision to go ahead with a particular software package.
Accounting That Churches Need
We touched on this earlier but it is worthy to explain it in more detail. IconCMO comes with a fund accounting system that was vetted by a national top 25 CPA firm. Servant Keeper recommends to their clients a non-compliant church accounting system like Quickbooks. Because IconCMO has this important software module at no additional cost, the church must take care when comparing the software packages.
The church would have to add the extra cost for this package (ie Quickbooks) to what they are paying for Servant Keeper to do an apple to apple comparison to IconCMO. A package like Quickbooks cost an additional $720.00 per year. What a church pays for Quickbooks they could have the entire IconCMO package ($649.00) plus more.
For a total package that includes Servant Keeper and Quickbooks accounting, the church would pay about 2,818.00 per year without upgrades. With IconCMO ($649.00) they would save $2,169.00 per year since IconCMO has its own accounting package.
With IconCMO they would get
membership,
small group package,
attendance,
donations,
pledges,
communication,
church accounting.
What is really important is that IconCMO accounting package is fund-based which is compliant for churches according to the FASB 958. Quickbooks, including Quickbooks for nonprofits' online edition, is not compliant with this standard. There are only a few church management software packages that have a full accounting module included, and even fewer that are compliant with the FASB 958.
Summary
Software companies don't make comparing prices easy because of the various pricing models they deploy. However, online systems have removed some of the complexity in pricing models because they don't charge for things like upgrades and extra users. Online systems typically have fewer price points. On the other hand with Servant Keeper, the church must factor in support cost, initial software cost, upgrade cost, training cost, and the monthly cost into a total price. It also must factor in modules that are needed, but Servant Keeper does not provide accounting.
Selecting a church management system can be daunting even for the most seasoned person. It's our hope that this post helps you to see through some of the noise and make a better software choice, even if it is not IconCMO.